For this trip to Italy I decided to plant a couple of boxes (even though all but one box went missing from my last trip to Italy), one in Catania and one in Herculaneum.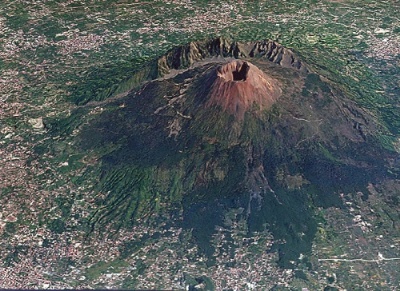 Mount Vesuvius
I planted
Trinacria
when we were in
Catania
(
Planting a Letterbox in Sicily
) and today I planted my second box. This box is called
Vesuvio
. I placed it on our visit to
Herculaneum
(since we weren't going to
Vesuvius
) and that seemed like a good place to leave it. We made our drive to Herculaneum and then went in to see the ruins. I decided not to put the box inside for two reasons - 1) there were so many people it was hard to do so unseen and 2) I didn't want to make people pay to get the box (even though it is worth the cost to see the ruins). So when we finished our tour of the ruins and we were back at the bus I decided to find a spot in the parking area. At first I had a hard time but then I noticed a spot and some landmarks I could use. So I placed the box and we will see if it gets any visitors and if it lasts for a while.